Enovana To Offer Laundry Folding
Posted on August 9th, 2018 by Joe McCutcheon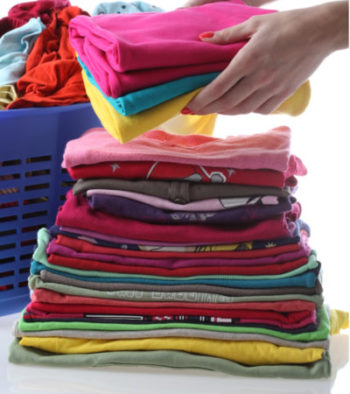 Enovana Launches Laundry Folding Service
Have you ever wondered, as you watched our cleaners hard at work in your home, what it would be like to have your gathering piles of clean laundry folded? Well, several of you actually wondered this, and in response, we're testing laundry folding as a new service!
This month, we formally launched our laundry service in beta, with a select group of customers. During the beta, the Enovana Green Cleaning team will develop and refine its new laundry program with the input of participating customers. As we execute on our current service as designed, we'll take your feedback and improve upon and expand the program.
Let's get one disclaimer out of the way: initially, our laundry service will NOT include a comprehensive "wash/dry/fold/put away" process. Rather, our initial focus is just the "fold" part, and from our initial feedback from customers, this is a big enough pain for many of you!
However, we do expect our service to expand in the future to include some combination of "wash/dry/put away."
So, how does the beta laundry service work? There are a few easy steps:
•
You leave clean laundry on the master bed.
•
We fold the laundry during our cleaning visit.
•
We leave the laundry on the master bed before we leave.
•
You come home to a clean house AND folded laundry!
So, how much does this new service cost? We are charging $10 per load, with load defined as one average-sized laundry basket filled to the brim (not overflowing). We will simply add increments of $10, depending on how many loads you have us fold, to your bill for that cleaning. To keep things simple, we will never fold unless you make a request in advance of a cleaning. Laundry eligible for the service can include clothes, linens, towels. Keep in mind that we currently don't wash, dry, iron, put away, or place clothes on hangars. This is a folding service, in the most literal sense.
Our beta testing group is still open, by the way. If you'd like to join call us at 919-801-8588. If you decide to join in the fun, please give us feedback along the way—customer feedback has helped us do great work over the last decade. Also, keep in mind that this isn't a stand-alone service, but an add-on for Enovana Green Cleaning house cleaning customers.
To learn more about additional services available from your favorite house cleaners, visit https://enovanagreencleaning.com/additional-services/.