Green Cleaning Products
Your Health, Safety & the Environment Are Our Top Priorities
Enovana Green Cleaning stands apart from others in the industry because of the cleaning products used. At Enovana, the environment is important to us and we practice many ways to help preserve it. Our most notable contribution to protecting the environment is with our green cleaning products.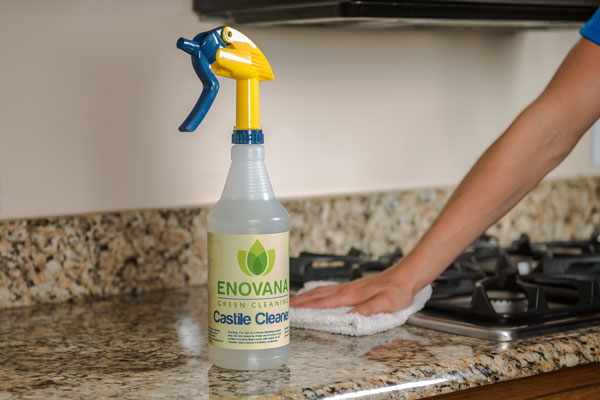 We Make Our Own Castile Soap
In an effort to use only the greenest cleaning products for our customers, we have developed our own proprietary formula of castile soap. Castile soap is a soap made from vegetable oils. Traditionally, it is composed of olive oil, lye, and water but can contain butters, aloe vera gel, essential oils, and salt. It is considered a green product because it is non-toxic, safe to use for cleaning, and biodegradable. The make-up of the soap is indispensable in green cleaning due to the way it helps cut through grease and lift away unwanted dirt. Through years of trial and error in our recipe, we have developed the perfect castile soap formula for cleaning homes.
In addition to our go-to castile soap in cleaning your house, we also utilize vinegar, baking soda, and essential oils. All of our products are free of chlorine, ammonia, phosphate, and synthetic fragrances which can irritate the skin. We never use additives, or harsh chemicals, preferring to rely on the natural cleaning properties of our ingredients.
Enovana Green Cleaning puts your health, safety, and the environment at the top of our priorities. By using only natural, green cleaning products and materials, we're ensuring the clean you need without the risks associated with industrial cleaners.
Experience green cleaning for yourself and see the difference it makes in your home!