Household Uses for Triangle Green Cleaning's Carolina Castile Soap
Posted on March 4th, 2015 by Enovana Green Cleaning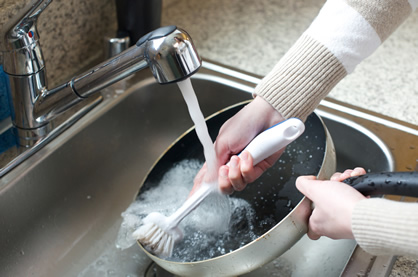 When we launched Triangle Green Cleaning, we set out to use true environmentally friendly cleaning products. As we used what was on the market at the time in the late 2000s, we quickly became disillusioned, to varying degrees, by what was being advertised in the marketplace as "green."
We learned very quickly that many products labeled as green can actually contain artificial ingredients—usually dyes and fragrances—and still meet minimum government standards. In our efforts to make our customer experience the best it could be, both in terms of keeping our costs down and having the products we use as healthy and pleasant as possible, we determined that government minimum standards just weren't good enough.
First, we tried buying greener and greener products, and then we discovered something we could make ourselves, something better. This discovery resulted in the birth of Carolina Castile Soap.
Castile soap is a centuries-old type of soap—originating in Spain—that was originally made from olive oil. While modern-day castile soap is still primarily composed of olive oil, it has evolved to include other saponified vegetable oils (which simply means to make into soap). Carolina Castile soaps all include olive oil as well as coconut oil. Carolina Castile uses coconut oil to create the bubbly lather that we have all come to equate with cleanliness.
Carolina Castile also includes plant-based ingredients that have cleansing, soothing, and disinfecting properties. They are gentle on the skin and absolutely non-toxic—no allergy- or asthma-inducing properties, no hormone-altering chemicals, no superbug-creating elements, and no danger to the water supply. Simply all-natural—and, in most cases, organic—ingredients that are used by Triangle Green Cleaning house cleaners and are also available for sale to the public.
But do they really work? Do they kill harmful bacteria? Many skeptics ask these questions and rightfully so. At some point over the last decade or so, soap managed to get a bad name through no fault of its own. The introduction of so-called antibacterial products made us all believe that the soap we grew up with was NOT antibacterial and, therefore, not good enough. The sad truth, however, is that we have overly disinfected ourselves and our environments to the point of harm. Many antibacterial ingredients—such as Triclosan, a popular healthcare disinfectant—have demonstrated in recent studies the ability to alter hormones and create antibiotic-resistant superbugs. So, yes, we're clean—but at what cost to our health?
Castile soap is just as effective at cleaning and disinfecting as the harmful stuff. Plus, it's multi-functional and can be used all over the house. Some of our customers say it even cleans BETTER than traditional household cleaners. And, for those of you who are wondering, yes, it smells wonderful! Here are just a few of the ways Carolina Castile Soap can be used throughout the home:
In its concentrated form, it's great for dish soap or laundry soap. Most of our customers have a soap dispenser by the kitchen sink for dish soap.
For laundry, just use ¼ cup per load.
When diluted (1:3 soap to water), it can be used as a general household cleaner for countertops, sinks, toilets, and bathtubs.
Tip: If you need a scrubbing agent for tubs or toilets, just add baking soda! For dusting and light-duty uses, you may want to dilute a bit more.
We think Carolina Castile Soap is one of the best truly natural cleaning products on the market, and we hope you'll give it a test run in your home. Carolina Castile's variety pack is a great way to try all the available scents and see which ones you like best. Some of the most popular choices are orange in the kitchen, lavender in the laundry, and peppermint or tea tree in the bathroom. Carolina Castile is now offered in select Whole Foods stores, on Amazon and on their website at www.carolinacastilesoap.com.
Next month, we'll be back with some great personal uses for Carolina Castile Soap!
Media Contact for Triangle Green Cleaning:
Joe McCutcheon, Owner
Phone: 919-801-8588
Email: [email protected]