10 Years and Going Strong: Happy Birthday, Enovana Green Cleaning!
Posted on September 1st, 2017 by Joe McCutcheon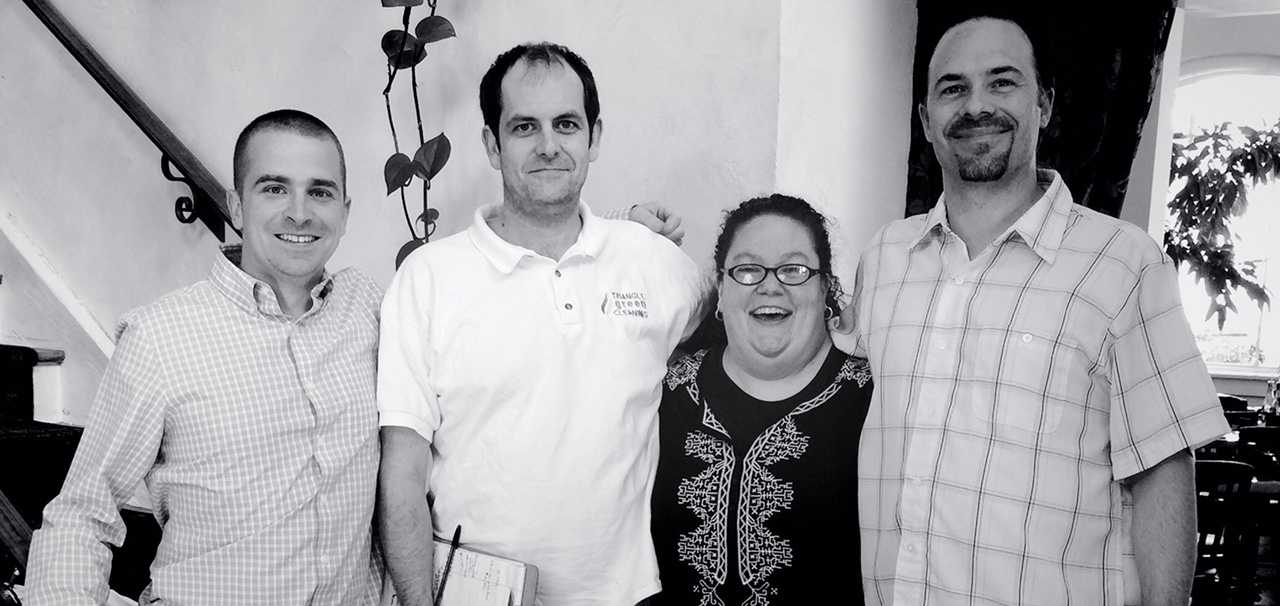 It's hard to believe that the company we started 10 years ago as Triangle Green Cleaning is now 10 years old, bigger, better, and more health and environmentally-conscious than ever, and even franchising across the country now as Enovana Green Cleaning.
I started this company as an experiment with my wife, Amy, in the late summer of 2007. We basically had a few cleaning implements—sponges, mops—and some off-the-shelf "green" cleaning products, which were a bit of a novelty at the time. We had an idea that we hoped would catch on: using green cleaning products to promote health and wellness while leaving a smaller negative impact on the environment.
Boy, did that idea catch on, but not without a lot of creativity, hard work, and most of all, our incredible management team and house cleaners.
We've taken incremental steps along the way, to improve the operations of the business while keeping a balanced approach to our business development, marketing, and recruiting.  No matter how great your concept, if you don't give people great service, they'll just look for the same concept somewhere else.
Along the way, we've gotten greener ourselves, such as purchasing our own fleet of high MPG cars, so that we can consume less fuel as we zig-zag across the Triangle area cleaning homes. Perhaps our most important achievement, after growing dissatisfaction with the price of some products and the lack of true "greenness" in others (perfumes, dyes, certain chemical compounds we knew could at least partially betray the intent of the product), we developed our own line of all-natural, healthy Castile soaps. That line sparked the creation of a new company, Carolina Castile Soap, that's now spun out and gone into homes across America.
From that first house in 2007, in 10 years we've gone to nearly 1,000 homes (and growing) each month. In fact, we cleaned over 1,000 homes for the first time in June this year, and we achieved that number with 1,000 happy, healthy customers.
We typically send two to three cleaners out to each home, depending on size and other factors, and we now employ enough teams to clean 40 homes each day, nearly 200 on a weekly basis, and consistently more than 900 every month.
Unlike many service industry companies, we look to make Enovana Green Cleaning the kind of place where you can have a career, if you enjoy cleaning homes and building relationships with wonderful families in the Raleigh/Durham/Chapel Hill area. We've built our team of nearly three dozen employees with some of the best compensation, benefits, and perks in the cleaning industry,
Our customers love our company because our people are great and stay committed to them. The average tenure of our employees is nearly three years, while the mean tenure is more than two years. Some of our longest-serving employees have been here five to seven years, and we want to make sure they never leave, as long as they are happy here. To us, they are family.
It's amazing to me that residential cleaning, while one of the oldest business concepts out there, is such a passion for me, my leadership team, and our employees. Perhaps it's because our products get better, technology improves us, and most of all, our customers remain loyal. When you work with people you love, and in turn, perform work for people you love, it doesn't get any better.
I can't find the words to express just how grateful I am to everyone involved in the success of Enovana Green Cleaning. Our success goes all the way back to the work ethic, values, and business acumen that our parents and mentors imparted to us before we started the company, to the collaboration of our leadership team and the amazing commitment of our employees through the years. We will continue to honor all of your contributions as we grow into the next decade.
Here's to another great 10 years, Enovana!