Our Team
Bringing You the Best Cleaners in the Industry
When it comes to cleaning, Enovana employs only the best in the business. We respect our clients and take their trust in our company and employees seriously. Our customers trust us to do a great job and respect their privacy, their belongings, family, and home. Our cleaners are committed to your safety and a job well done.
Our team at Enovana Green Cleaning has over 150 years of combined experience in professional house cleaning services. There is nothing our cleaners haven't seen! We take pride in our duties and ensure that you will come home to a spotless house that will exceed even the most stringent expectations. With regular weekly, biweekly, and monthly services available, we personalize our services to meet your needs. We also offer move in/move out cleaning and one time cleaning services.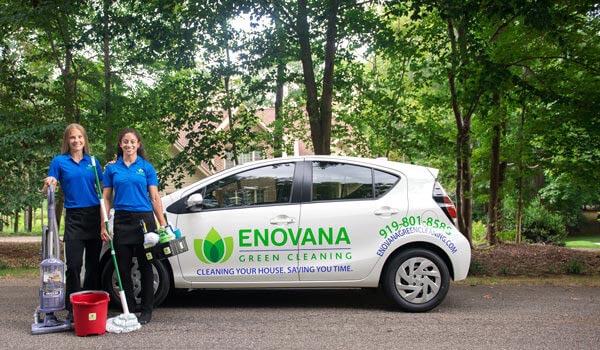 Professionalism is important to our employees. You can expect every Enovana team member to arrive in uniform and in a company decaled car. Unlike some of our competitors, we will never keep you waiting when you have a scheduled appointment! Trust us to keep your schedule and get the job done right. Enovana cleaning services are 100% guaranteed. If for any reason you are not happy with the service that was provided, we'll send back our team to make it right at no additional cost.
We know that trusting someone in your home can be very difficult to do. Our team members understand the trust you place in them to respect your house and property. Every Enovana employee is subject to a screening process and background check. Our turnover rate is very low compared with the rest of the maid service industry. All employees are covered under workers compensation, liability insurance, and bond. We pride ourselves on being honest, hardworking and ethical.
At Enovana, we value our team members and reward them with pay that exceeds the industry average, without having to overcharge our customers for our services. We reward hard work and great service and that is exactly what you can anticipate from an Enovana employee.
Experience the Enovana Green Cleaning difference for yourself and let us take care of your home for you!