Common Areas
Our Cleaning Professionals Take Care of the Mess, So You Can Relax
Common areas, such as your bedroom, living room, dining room, or family room, are the places you and your family sit down to relax. As such, these areas need to be clean and welcoming at the start of each day. Enovana Green Cleaning has your comfort in mind when we handle these rooms, offering the services needed to get the job done!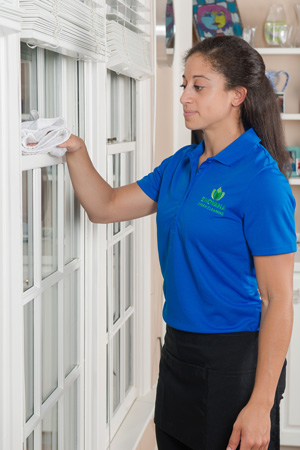 Our cleaners take pride in their work and it shows. When they're through, your common rooms will be clean and tidy, welcoming you in to kick off your shoes, watch some T.V., read a book, or just relax. All cleaning is done with our natural green cleaners, free from harsh chemicals and unnecessary additives. With the powerful, natural ingredients, our green cleaning products will have your common areas shining like new.
In these rooms, Enovana cleaners take extra time to make sure all furniture is dust free. Dust will be removed from ceiling fans and any cobwebs will cease to exist. Any trash will be collected and floors will be vacuumed and/or mopped. We take care to clean all the overlooked areas as well such as baseboards, window sills, door and window frames, and light fixtures. Unlike other cleaning companies, you won't have to come home and touch up what was done. Enovana has your entire space covered.
Our Cleaning Checklist
Furniture has been dusted.
Baseboards, shelves, window sills, window frames, doors and door frames have been dusted (where possible).
Accessible ceiling fans have been dusted.
Cobwebs have been removed as much as possible.
Light bulbs and light fixtures have been dusted where possible.
Trash has been collected (any trash cans kept inside cabinets should be left out before the cleaning).
Floors have been vacuumed and damp mopped.
Hanging lights have been dusted where possible.
Our professional team members pay attention to detail to ensure that your common areas are dust free and clean, exactly the way you want them. Rest assured that when you come home after a long day, the living areas will be as clean as they would be if you had done the work yourself!