Triangle Green Cleaning's McCutcheon Shares Secrets of Company's Success at Entrepreneur Event
Posted on August 1st, 2013 by Enovana Green Cleaning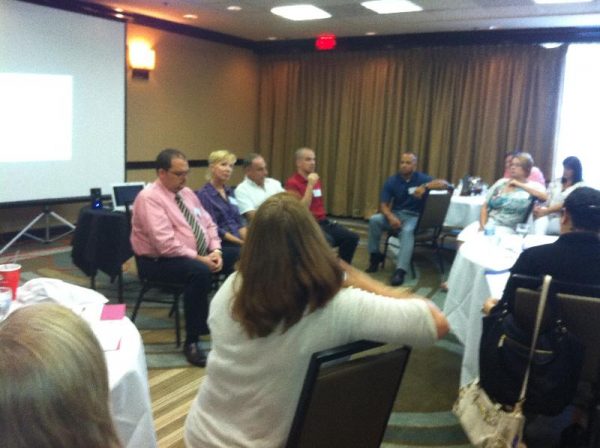 Rags to Riches Success Maid Easy, a company dedicated to providing support to entrepreneurs in the residential cleaning business, recently invited Joseph McCutcheon, founder and owner of Raleigh, North Carolina's Triangle Green Cleaning, to speak at its recent third annual Regional Seminar in Virginia Beach, Virginia.
As part of an East Coast panel of top producers in the residential cleaning industry, McCutcheon and others shared their experiences and decisions that had led their companies to sustained success. The panel consisted of leaders from companies based in Delaware, Virginia, and Maryland, and they discussed business practices and philosophies common to the cleaning industry's revenue leaders, including the use of company vehicles, cleaning teams made up of full-time employees, eco-friendly products, and more.
A crowd of nearly 70 East Coast-based cleaning entrepreneurs packed the event room at the Holiday Inn Virginia Beach-Norfolk Convention Center on July 20, as McCutcheon and the other panelists shared the secrets of their success. For McCutcheon, the difference-makers for Triangle Green Cleaning's success have boiled down to a pair of factors: the focus on environmentally-friendly cleaning products, such as vinegar and all-natural Castile soaps, and deploying best practices in residential cleaning learned from networking with other cleaning services that are members of A.R.C.S.I (Association of Residential Cleaning Services International) and in the Rags to Riches Success Made Easy training program known as C.O.R. E. (College of Residential Experts).
"Any business should be completely focused on its customers," explained McCutcheon. "We do that in a number of ways at Triangle Green Cleaning, since we believe that if we take care of our customers first, they will ultimately reward us with their continued business. We've achieved our success by focusing on business practices our customers can believe in, by using cleaning products that promote better health for their families and are more sustainable for the planet."
"Furthermore," McCutcheon continued, "the C.O.R.E training our company leadership has received from Rags to Riches Success Maid Easy has really enabled us to be the best we can be for our customers and our employees. The program focuses on teaching us sound accounting practices, effective pricing that benefits our customers and allows us to remain profitable, and incentives for our people to always seek a new standard of excellence in delivering our work to the families we serve in the Raleigh-Durham-Chapel Hill area."
For more information on Rags to Riches Success Maid Easy and the C.O.R.E. training program, visit their website atwww.successmaideasy.com. For more information on A.R.C.S.I visit their website at www.arcsi.org. For more information on Triangle Green Cleaning, visit the company's website at www.trianglegreencleaning.com
Media Contact for Triangle Green Cleaning:
Joseph McCutcheon, President
Phone: 919-801-8588
Email: joe@trianglegreencleaning.com